Meet the freediving school and our instructors
Our school is located within the marina facilities, in the town of Radazul, just 15km from the capital, Santa Cruz de Tenerife.
A few meters from the sea and with unbeatable conditions for the practice of freediving: depth near the coast, clear waters, good water temperature (19ºC in winter and 25ºC in summer) and excellent weather almost all year round.
We have training anchorages at different depths (-20m, -35, -45, -60mts, …) to train at different levels and very close to the coast. This makes Radazul Bay one of the best places in the world for the practice of deep diving.
Our freediving center has all the comforts and quality services. Hot water showers, freediving equipment of the best brands for the student, dry and wet area to store your equipment, rental and sale of specific freediving equipment, chillout area with freediving library, theory classroom, wifi, etc.
Apnea Canarias is located inside the marina of Radazul where you will find traditional restaurants, Italian restaurants, pharmacies, etc. Private parking for your cars and with direct access to the sea. This bay also has two beaches and recreational areas for the enjoyment of your companions while you do any of our activities.
After the training you can enjoy snorkeling in a sunken ship, El Peñon. This wreck is located at a depth of between 20 and 30 meters, just 5 minutes walk from our center.
If you are looking for deeper training, below 60m depth, we also provide the necessary infrastructure for your training; fast boat with counterweight system and sonar, experienced safety freedivers with scooter, oxygen, etc., so you can train depth in a safe and professional way.
The best instructors to help you achieve your goals in our freediving school in Tenerife.
Miguel Lozano
Miguel Lozano, is a professional freediver, specialized in deep diving. He has been proclaimed World Runner-up in two of the three freediving depth disciplines (Constant Weight without Fins and Free Dive) at the 2015 AIDA World Deep Championship in Cyprus.
In 2016 he dove to -122 meters deep in Free Immersion during the Caribbean Cup championship in Honduras, an achievement that currently places him as the second deepest person in the world in this discipline, just 2 meters shy of the current World Record.
He was also the first Spaniard to reach the -100m mark in the constant weight mode (finned) and -76m without fins.
He is a trainer of Apnea Instructors for AIDA, SSI and PADI certifiers and Instructor for organizations such as Apnea Academy and Fedas.
Personal bests: -100m CWT / -122m FIM / -76m CNF / 8′23″ STA.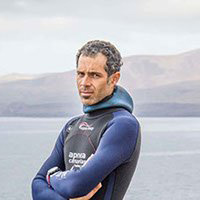 Santiago Jakas
Santiago Jakas is one of the best freedivers in Spain with great experience in competition (Spanish Static Record in 2008/09/10) and in training students. He is also a freediving judge in AIDA International since 2013. He has acted as coach and organizer in all of Miguel Lozano's records.
He is the main responsible for the ApneaCanarias centers in Tenerife and Lanzarote.
He is a freediving instructor trainer for AIDA and PADI certifiers and SSI and FEDAS instructor.
Personal bests: -80m CWT / -80m FIM / -60m CNF / 7′12″ STA.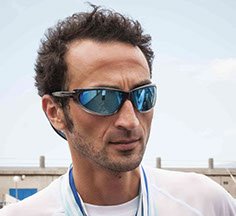 Omar Mourad
Omar Mourad, manager and Instructor Trainer Aida of Apnea Canarias since 2014. He has extensive experience in the water, as he is a Professional Lifeguard, Master Scuba Diving Instructor and Trainer Freediver Instructor. In addition, he is a First Aid Instructor. He has been organizing the freediving competition "Atlantic Freediving Cup" and managed its security. In 2018-19, he was in charge of the competition safety team, The Authentic Big Blue in Amorgos, Greece. During the last few years, he has taught courses on Stress Management in emergencies for the Air Force, Military of the Spanish Army. Omar lives in the Canary Islands, where he can freedive all year round.
Also part of the safety team in one of the most prestigious freediving competitions in the world, Vertical Blue, which takes place every year in the Bahamas.
Trainer Instructor Aida, SSI Level 3. Judge AIDA.
First aid instructor.
Personal bests: -60m CWT / -60m FIM / -70m VWT / 6′30″ STA.
Learn freediving with the best instructors in Apnea Canarias
Do you need our facilities for your activities or equipment? Ask us
For instructors to teach their courses
Every year more and more freediving instructors come to our center to teach their freediving courses and activities.
From Apnea Canarias we understand that it is difficult in some countries to find areas with good conditions for the practice of deep freediving. For these reasons we offer our freediving center with all the necessary equipment to teach your courses and the necessary material for your students.
Prices depend on the number of students you bring with you. We have two options:
⋜ 4 STUDENTS: 15 € / day / student
+ 4 STUDENTS: 10 € / day / student
This amount applies only to students (not instructors).
The price includes:
– Classroom with capacity for 10 students, with screen and internet connection.
– General equipment: buoy, line and depth weight.
– Hot showers and storage space.
– Fixed training lines at different depths: -35m, -45m and -60m.
For those freedivers who already have a freediving certification, at least AIDA level 3* or higher and are familiar with training standards and safety systems, Apnea Canarias offers the use of its facilities.
The first outing will be conducted with an instructor to test the freediver's knowledge and skills in terms of safety. All of these outings will coincide with an already scheduled course water outing or training.
Duration:

1:30- 2 hours
Requirements:

– Have a minimum freediving certification AIDA 3* or similar.
– Be familiar with safety and rescue techniques (to be tested in a first outing with an instructor).
– Own diving insurance (you can purchase one at our school).
– The outing will be held in conjunction with a water outing of an already scheduled course or training.

Price:

20€/person/session (minimum 2 persons)
Includes:

Buoy, rope and depth weight, use of fixed lines, changing rooms and hot showers. For equipment rental, see prices in the "equipment rental" tab.
For those activities that do not include freediving equipment, and the student does not bring it with him/her, he/she can purchase it at our center.
| | |
| --- | --- |
| – Complete equipment (suit/fin/mask and snorkel) | 15/day |
| – Freediving fins | 5/day |
| – Mask and tube | 5/day |
| – Freediving suit ELIOS (5mm) | 10/day |